They kept saying we were going to get snow today, but when I woke up and left for work there was only ice left over from yesterday's sleet. Since 8:30 a.m. it has been snowing non-stop and it's supposed to last until 6:00 p.m. I tried to get a picture that would accurately show how much snow we've gotten, but instead I pushed the door open, aimed, and shot this photo. It may not look like much, but it's pretty ugly outside. I hope I can get out of work tonight--I love my job and all, but I don't want to sleep here. LOL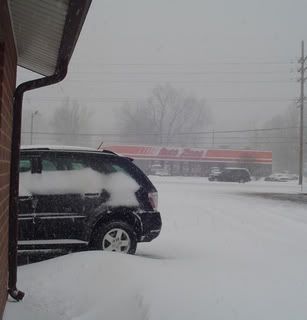 I was going to take a picture out the window, but the snow is drifted up 8" in the window sill, covering most of where I can see out.
On Sunday it reached 78 degrees, yesterday we had sleet/freezing rain and today this. Like they always say--if you don't like the weather in St. Louis, wait a few minutes--it'll change!