When I finally got to leave work yesterday this is what I came out to. The snow had been drifting up so I was in it up to my knees to clean my car off.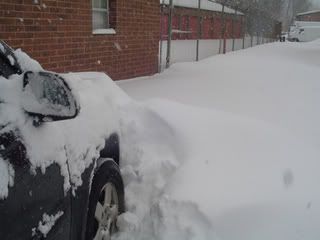 Of course, the man with the snow plow was there and I was the only car left in the lot. He watched me clean it off and then when I brought the broom back inside he decided to push a bunch of snow up behind me so I couldn't leave. I bit my tongue while my boss asked him nicely if he could move it back out of the way so I could leave. Sometimes I wonder about people.
When I got home this was the view out of my back window. It's very pretty when you don't have to drive in it. Kind of hard to believe it was 78 degrees 2 days ago.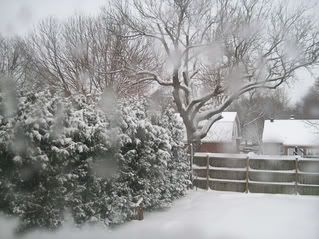 Now on to stamping....
Once I was warm and toasty I had a chance to break out my new Papertrey stamps. I am so happy I was able to get the Out on a Limb set. On this card I used Out on a Limb and Butterfly Kisses (sentiment) stamps, spring moss cardstock, and spring moss swiss dots ribbon. My flowers were stamped with chalk ink, then I accented them with a pink souffle pen and a yellow glitter pen. The pearlescent pink background really makes this card pretty in person.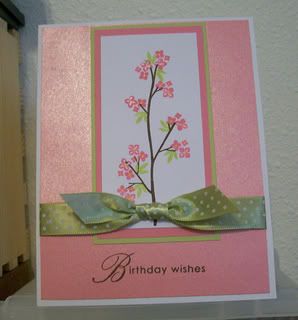 Just for fun I also tried out the My Punny Valentine set so I could ink up that adorable sheep. The sentiment is from a local stamp artist (saltbox studios Sheep Sayings). I used Papertrey's aqua mist cardstock, stamped with Versamark, and aqua mist ribbon and ink. Just a fun quick card.