I had a busy weekend, yet I somehow managed to squeeze in a little time for stamping.
The first card was part of a Papertrey Ink Forum challenge to make a black and white masceuline card. The only stamping on this one was the sentiment from PTI's Out on a Limb set. I used patterned paper and even a tiny bit of ribbon. As an afterthought I added the black stickles to the four corners of the sentiment and it really finished off the card nicely.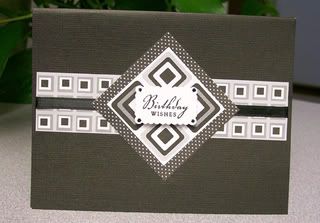 The second card was my first attempt at a sympathy card. I used almost all Papertrey products including: Aqua Mist cardstock and ink, Spring Moss twill and ink, Everyday Blessings patterned paper, and the stamps are from Out of a Limb.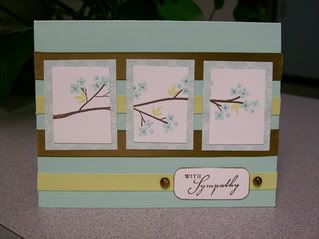 I was shopping for a new paper trimmer this weekend at Archiver's when a woman offered me her coupon for 30% off any one item. It was going to expire today and she knew she wouldn't use it before then. I don't know who she was, but she made my day. Thanks again! :-)