Well, we made it home alive despite pouring rain and a hint of TMT (too much togetherness--We were in the car A LOT!). All in all it was a good trip. I wish we had more sun, but it was warmer than home and it was nice to get away.
I took a few photos of the view from each of our rooms and there was quite a difference depending on what part of the trip we were on.
Here is our first hotel in Bay Point, FL, not far from Panama City Beach. We got in early and were upgraded to a 1-bedroom suite golf villa. The 6th hole of the golf course was right outside our sliding door. The picture was taken right before we left. For our 2 days there we had no sun, just clouds and a little rain. It cleared up just in time for us to leave, but we had a great time anyway.
We went to the new Pier Park shopping center and had lunch at Margaritaville (it had just opened the week before) and then a beer at the Hofbrau Beer Garden. They had signs all over advertising a Spring Break special--David Hasselhoff's Strip & Go Naked Punch. I forgot how big Hasselhoff is in Germany. I had to get a photo.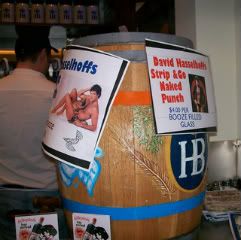 Next we were on our way to Point Clear, AL, about a half hour from Gulf Shores. The hotel was beautiful, and it was the only day we actually got to lay by a pool and relax. The balcony had rocking chairs on it and this is what we got to look at--not too shabby, eh?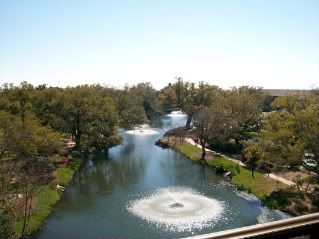 Then it was off to New Orleans. The view wasn't quite the same as what we had been used to, but we had a great time in the French Quarter and were on Bourbon Street for a nighttime parade on St. Patty's Day. I wish I had photos of that, but I didn't take my camera down there. It was not quite as crazy as Mardi Gras, but it was a night with plenty of beer, cheer, flowers, and beads.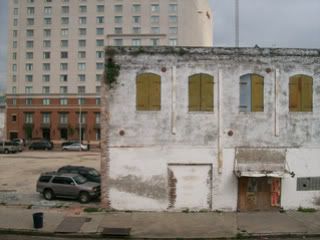 One of the many gift shops had this T-Shirt in their window. I thought it was pretty clever.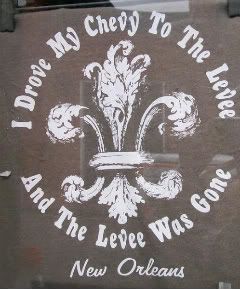 I was surprised by the amount of damage still there. We saw so many houses and buildings that I expected to have been bull-dozed and started rebuilding by now. We did see lots of construction work, but we saw much more that needed to be done.