First, I have to post a picture of the beautiful roses my honey brought me for Valentine's day. He's not much for buying flowers (even though we live right next to a florist) so I was very surprised. They're even more beautiful than the photo shows.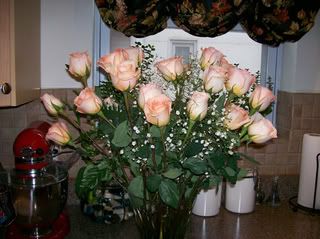 Speaking of my boyfriend, he's constantly saying "You're buying MORE ribbon?!" I'm reduced to sneaking it into the house when he's not looking. I can't help it. I love ribbon. Here's a picture of the normal craft ribbon I have. This doesn't include my Christmas and gift wrapping ribbon (that's a whole different mess!). I got the clear snap cases at Wal-Mart for about $4 and they stack perfectly in the shelf unit next to my craft workspace so I can see which box I need.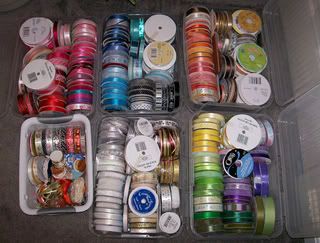 I made some cards this weekend using my Papertrey Ink Butterfly Kisses set, but we had such a cloudy rainy weekend that I couldn't get decent photos (no good lighting). Hopefully I can get some better photos later today so I can post them tomorrow.