I had to bring my cards from this weekend to work to get some decent light to photograph them. I was a little rushed so they're not the best pics, but they're way better than the shots I got at home.

The first one I like because it's sort of simple. You can't really see in the photo, but the three "starbursts" under the sentiment have fuchsia sequins in the middle that match the ribbon beautifully. In person, this is a VERY pretty card--the photo doesn't do it justice.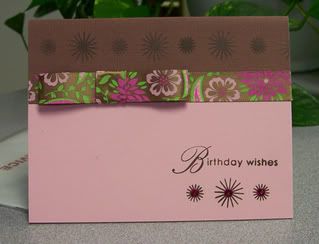 The next one I like because you can go horizontal or vertical with it. I had to stop myself when I was adding pearls and crystal Stickles before I completely covered all of the butterflies. The Stickles doesn't really show up, but believe me, it's there in plenty. LOL It's very easy for me to get carried away with sparkly things.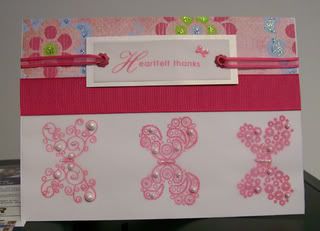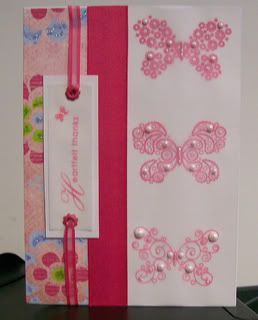 Both cards use the Butterfly Kisses set from Papertrey Ink.